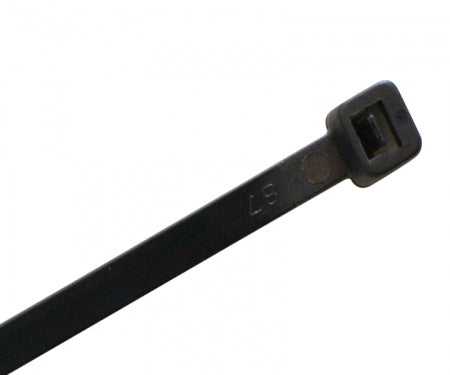 Black Zip Ties - 19" Inch Long Extra Heavy Duty - UV Resistant Nylon - 250 Lbs Tensile Strength - 100 pcs Pack
Sold out
Original price
$66.28
-
Original price
$66.28
Length - 19"
Pack Quantity - 100 Pcs
Tensile Strength - 250 Lbs
UL Listed, File No. E530766 Positioning Device 33AS
UL Standard UL 62275 TYPE 21S
Made With UV Stabilized Nylon 6-6 Material
Available in Standard, Heavy Duty, And Extra Heavy Duty Strengths

Operating Temperature Range -40º - 185º F
Humidity absorption: 2,7%-2,8% (23°C -50% R.H.)
Max sustainable temperature for a short time: +110°C
High Resistance To Sun & Outdoor Exposure
Good resistance to bases, oils, greases, oil derivates, chloride solvents
Carbon black additive gives a better UV resistance
Smooth Finish, Saves Hands From Abrasion
Material brand: Dupont, Ascend
Conforms to ASTM-D4066 PA181
Meet or exceed MIL-S-23190E standard
RoHS Compliant: RoHS Compliant 2011/65/EU
AH-2 Plenum Rating
Self Locking Design
Secure and Bundle with Confidence: Kable Kontrol Black Nylon Cable Zip Ties are the ultimate solution for your cable management needs. Crafted with high-quality materials, these zip ties deliver unrivalled strength and durability, ensuring your cables stay securely organized.
Superior Build: Our zip ties are constructed with premium black nylon 66, providing excellent resistance to weather, UV rays, and common chemicals. This ensures long-lasting performance in both indoor and outdoor environments, giving you peace of mind that your cables are protected.

Huge Size Range: With convenient 4" to 60" lengths, these zip ties offer optimal versatility for various applications. From organizing cables in your home or office to securing wires in automotive or industrial settings, our zip ties provide a reliable solution that suits your needs.
Simple and Efficient: Thanks to their easy-to-use design, Kable Kontrol Black Nylon Zip Ties make installation a breeze. Simply thread the tie through the self-locking mechanism and pull tight. The smooth operation ensures a secure grip, preventing cables from slipping or getting tangled.
Budget-Friendly: We understand the importance of value for money. That's why our zip ties are competitively priced without compromising on quality. Enjoy a cost-effective solution that doesn't compromise on performance or reliability.
Choose Kable Kontrol Black Nylon Zip Ties for a dependable and affordable cable management solution. Experience the convenience and durability that our zip ties offer, keeping your cables organized and protected in any setting.